When it comes to creating websites, there are many different approaches that you can take. You can code your site from scratch, use a website builder like Wix or Squarespace, or opt for something like Webflow. Webflow is a visual drag-and-drop web design platform that allows you to create responsive websites without writing any code.
Webflow also provides templates and themes that can be used to speed up the design process and offers users a range of web design tools, unique features, and customized designs.
Web Flow
Webflow is a web-based software designed for various purposes, including website and web app development, automating tasks, and digital marketing campaigns. Webflow allows users to create and customize websites and apps with a smooth, user-friendly process.
In addition, users can easily automate certain tasks such as social media scheduling, notifications, and integrations with other applications like WordPress and Google Analytics. This automation makes it easier for businesses and web developers to complete tasks quickly, accurately, and stress-free. Moreover, Webflow makes it easier to create powerful websites, making them attractive and attractive to users. The result is a professional and unique website that can help increase the company's visibility and drive more traffic, ultimately increasing overall economic growth.
In short, Webflow allows you to create your website using a visual drag-and-drop interface. You can add elements to your website, such as text, images, videos, forms, and buttons, by dragging and dropping them into place. Once you're happy with your design, you can publish your website, which will be hosted on Webflow's servers.
If you're a designer or developer, you might wonder if Webflow rivals tools like Squarespace and Wix. The short answer is no. Webflow is a solution for professional designers and developers looking for a more robust way of building websites.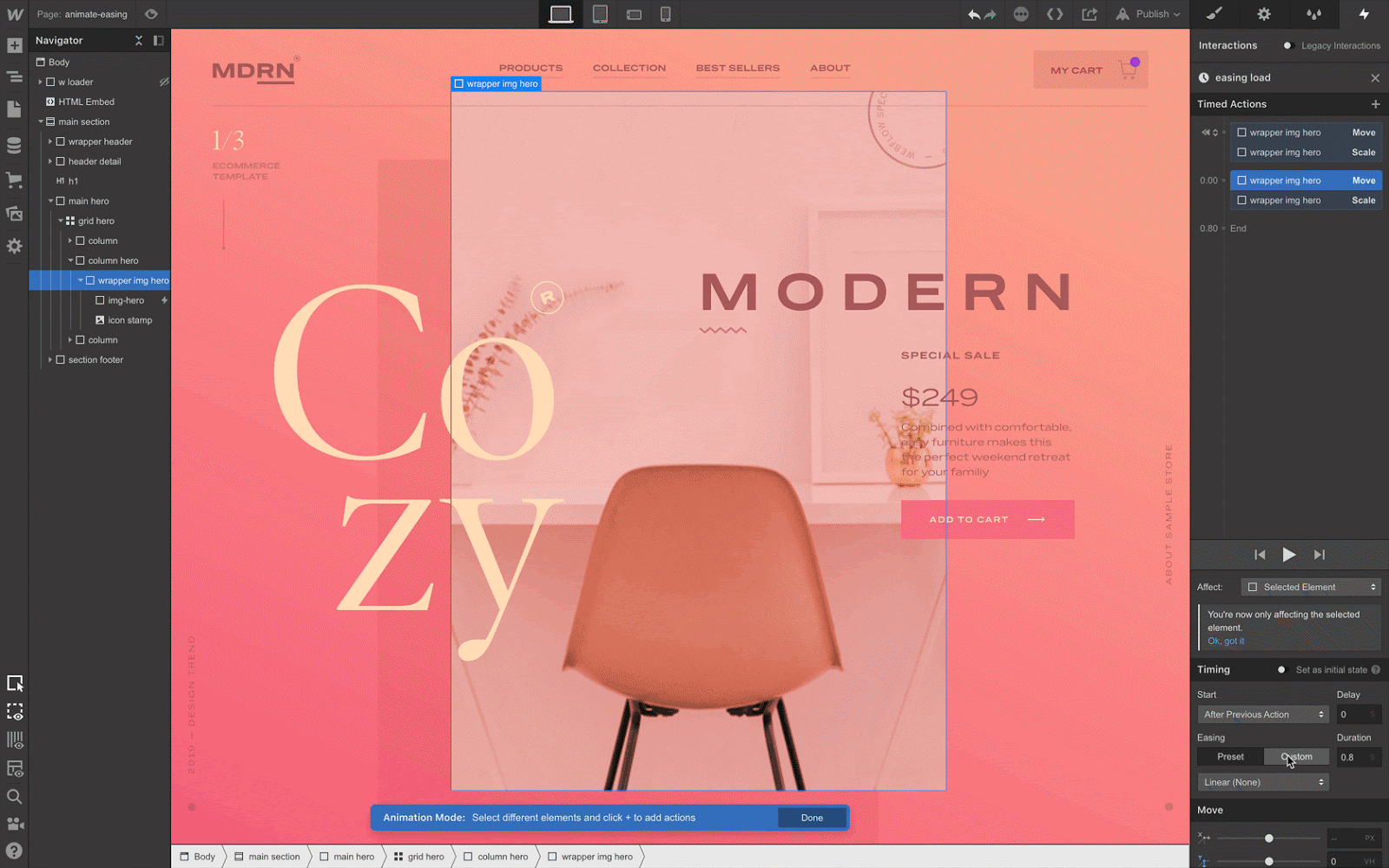 A seamless and intuitive user experience
Webflow is designed to make it possible for designers and non-designers alike to create a website. It uses a visual editor where you can create your design without knowing how to code.
Webflow templates
In addition to having access to a large collection of design elements, you also have access to a large library of premade templates that you can use as a starting point for your design.
High quality and beautiful designs
At the core of Webflow's functionality is the ability to create beautiful websites. You have full access to a large library of design elements, which you can seamlessly combine together to create your own unique design.
Access to a large collection of web design elements
One of the best features of Webflow is the large collection of web design elements you have access to. You can use these elements to create a beautiful and unique design that meets the needs of your target audience.
Built-in eCommerce Functionality
Webflow also offers built-in eCommerce functionality, enabling you to create an online store easily. This is a great feature if you want to sell products or services online.
Webflow can get expensive
Before we get into the nitty-gritty, let's get the elephant in the room out of the way. Webflow is not free. It can get expensive. A free plan will give you access to some basic features, but to get access to most of the advanced and impressive features, you will need to pay upwards of $235 per month.
Poor customer support
Many users also complain about the quality of Webflow's customer support. While you can submit suggestions and feedback directly to the company, many find that the responses are not prompt and helpful.
Webflow is not beginner friendly
While Webflow is intuitive and easy to use, many argue it could be more beginner friendly. This is because to unlock the full potential of Webflow truly, you will need to understand coding. While the visual editor makes it easy to create a simple design, you need more advanced designs, such as ones that use parallax scrolling or include videos and animations.
Webflow templates are limited
While the premade templates that Webflow provides are great for beginners, they have limitations. First, they are limited in terms of design elements. Also, they are not responsive, which means that if you want to create a website that will work well on all devices, you will need to start from scratch.
Limited SEO features
Webflow doesn't have the same comprehensive tools that other platforms offer. As a result, you may need to put in more work if you want your website to rank highly in search engine results pages.
Before using Webflow, you will need to understand basic coding. This includes how to create and design parallax scrolling, how to add video, and how to use other advanced features. If you don't understand these things, you will run into issues when using Webflow.
Overall, using Webflow provides beginner and advanced web developers with a comprehensive and efficient way to design, create and deploy meaningful websites. With a wide range of powerful features, a highly intuitive interface, and flexible customization options, it's easy to understand why this rapidly growing platform is quickly becoming the go-to choice for creating beautiful, engaging online experiences. With careful consideration of the pros and cons, as well as a comprehensive understanding of the Webflow platform and its capabilities, you can ensure that your online project is a success.
Webflow is a powerful and robust tool that allows you to create beautiful and unique designs without needing any coding knowledge. With the right knowledge and skills, you will be able to create a truly stunning design and generate more leads and sales for your company.